Location
King Life Science Building, Room 1058
319 Stadium Drive
Florida State University
32306
Tallahassee
,
FL
United States
Florida US
Date:
Saturday, October 24, 2015 -

08:00

to

13:00
Sponsoring Organization:
Florida State University's Robert K. Godfrey Herbarium
Short Description:
Build a dataset for a biodiversity hotspot—help FSU's Godfrey Herbarium digitize its local plant specimens
Taxonomic Scope of Specimens:
Geographic Scope of Specimens:
Temporal Scope of Specimens:
Image: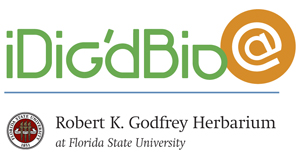 Funding Credits:
The work is funded by donors to the Godfrey Herbarium's FSU Spark crowdfunding campaign (http://spark.fsu.edu/Projects/121/Blazing-a-New-Trail-for-Sustainability-with-Citizen-Science) and grants from the National Science Foundation (Cooperative Agreement EF-1115210, Award 1458550, and Award 1410288) to Austin Mast and others. Any opinions, findings, and conclusions or recommendations expressed in this material are those of the author(s) and do not necessarily reflect the views of the National Science Foundation.
Parking Directions:
There will be ample parking in the parking garage just south of King on Stadium Drive.
Organizer Name:
Austin Mast
Katelin Stanley